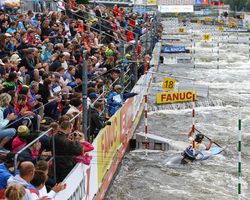 Less than two months before the ECA European Canoe Slalom championships in Prague – Troja (1. – 3. 6. 2018) the ticket sales have been lounged. It started today 9 April at 9 AM via the web page TicketPro.cz. The C2 men´s category also in the program.
The continental championships will be held in Prague for the first time in the history and it returns to the Czech Republic after long twenty years. The preparation works are going on smoothly according to the plan.
"The most time consuming activities are the marketing, finance management and, ca three months before the event, it is also the advertisement and promotion. In the last phase, we work on the technical background and facilities for the competitors and visitors," says Jiří Rohan, the LOC president.
Besides the competition program, the rich accompanying program for visitors will be available. Traditional Paddleride on the Vltava River or popular Riverside Cross, or the official opening ceremony in Hybernia Theatre is being prepared. "The visitors can look forward to the great performances of our athletes but also a rich program inbetween the sessions," Rohan adds.
Despite the cancelation of the men´s C2 events at ICF competitions, the European championship is planning this competition.
"I hope it will be a nice goodbye competition to this category which was one of the founding sports in the history of canoeing. The men´s C2 competitions used to be the most attractive for the visitors. It is a big pity that we will not see them in the Olympic program anymore due to the gender policy. For me, it is a big disappointment and I have a small hope that this category will find its way back to the competitions one day," ends Jiří Rohan.
Categories:
Men: K1, C1, C2, team
Women: K1, C1, teams
Tickets: Buy Online
Opening ceremony: Wednesday 30 May in Hybernia Theatre from 19:30. Ask for the free tickets at: This email address is being protected from spambots. You need JavaScript enabled to view it.. 50 people will be granted the tickets for free.
Deadline for the e-mails is 14.5.2018.
Number of tickets is 1 ticket per name.
All winners will be informed via e-mail by 17.5.2018.
Program: http://www.slalomtroja.cz/cz/informace-k-zavodu/program-zavodu
Media accredittation: http://www.slalomtroja.cz/cz/press/akreditace