Trnavka welcomes Czech selection races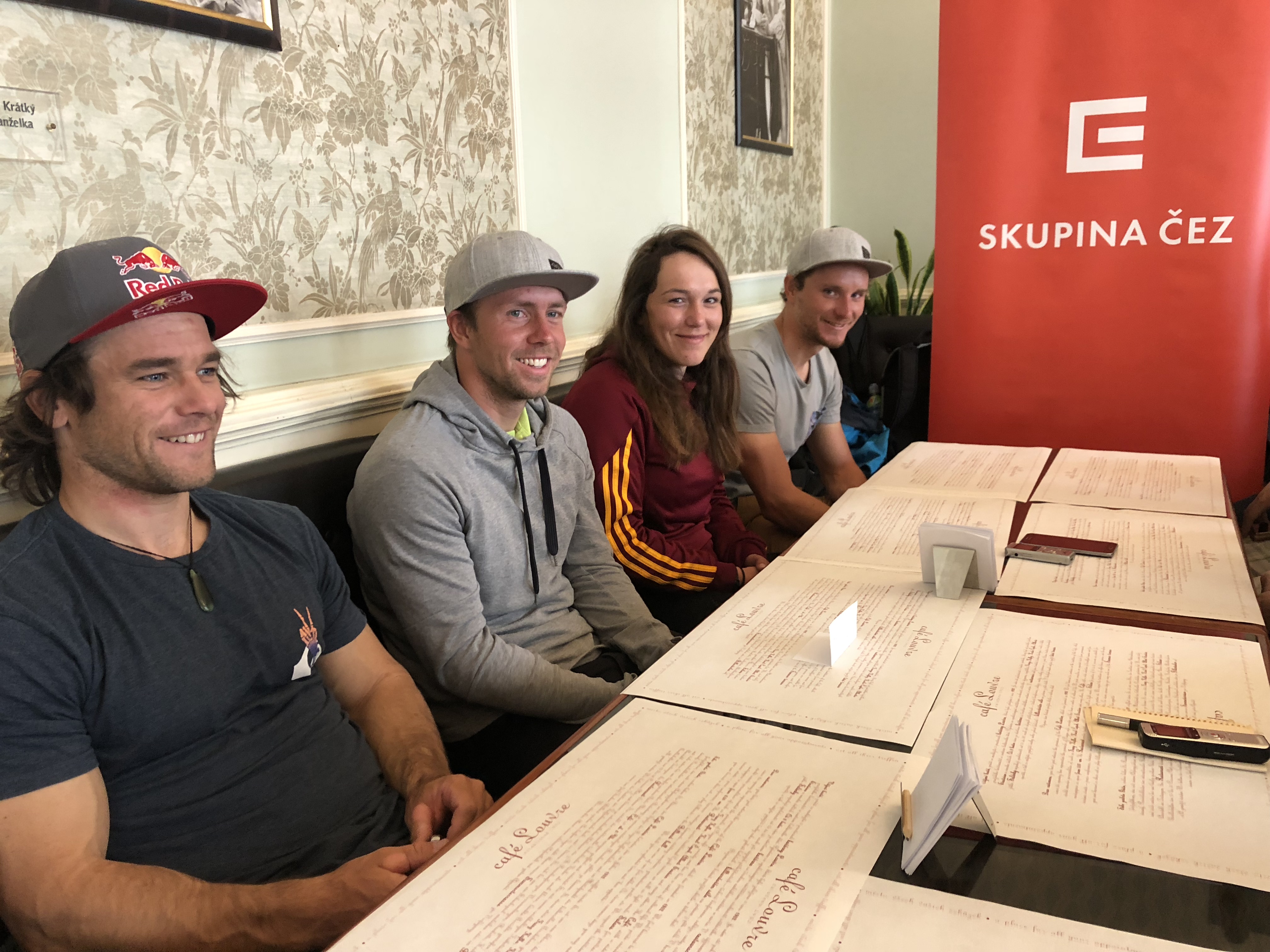 Only one month before the ECA European Canoe Slalom Championships in Prague – Troja starts (1-3 June), the Czech paddlers expect one of the most crucial competition this weekend. The canoe slalom course on Trnávka in Zeliv welcomes the first two races of the CEZ Czech Cup 2018, which also is the Czech selection to the national team. On 5 and 6 may, we can see the real "Czech power on the water" especially in the men´s kayak with Vavrinec Hradilek, Vit Prindis, Jiri prskavec or the reigning world champion Ondrej Tunka.
There is just one place left in the Czech team among kayakers but there are many strong adepts. The 2013 world champion and silver from London Olympics Vavrinec Hradilek does not take the selection only as a fight against Prskavec. "Despite the fact that people can feel it is like a battle between me and Jiri, for sure it is not only about that. There are at least five others who are ready to attack. From the young generation, I can mention Tomáš Zima, who can go pretty fast and is quite stable with his performances. On the other hand, I understand that there are two Olympic medallists and two world champions facing each other in battle for just one place. So it is very attractive for the public and media. I hope the people will come to support us thanks to this "campaign". Of course, for me, it is just another selection and I was already dealing with similar situation before the Rio Olympics selection. I do not bother with it oo much, just want to enjoy the sport and I look forward to it very much. Jiri has beaten me many times lately but I also have a strong motivation to get into the team one more time," said Hradilek.
"Trnavka and Troja are both OK for me mentally, despite the fact that I did not have good races on Trnavka in the last years. But the nature and surroundings is so beautiful there and I like it there so much that even if I do not show a good race, I always leave with a good feeling," he added.
Former world champion from London 2015, Jiří Prskavec agrees with Hradilek. "There are people who have a huge motivation to compete on the home soil in Prague at the European champs. They give all into this. There are five strong guys who will fight together for the last spot," thinks Prskavec who feels in a good shape.
Ondrej Tunka feels much more relaxed with the guaranteed place in the Czech team after the win in Pau: "Finally, I can enjoy the competing during the Czech selection a bit more. It will not be so stressful as in the past. But I am also working hard trying to prepare myself for the races so that nobody can say I did not deserve the place in the team," smiles the world champion Tunka. "My family supported me in Pau very much abut I do not think they will be going to Rio with me. My father does not like flying so I have to manage it myself and feel motivated," added Tunka.
Nor the ICF World Cup 2017 winner Vít Přindiš does not feel much pressure with the spot already guaranteed. "It is very nice when you do not have to be stresses and you just train for a good race and solid performance. The Czech Cup will be a good competition and I saw the guys are very well prepared. Honestly, I would not like to fight with them for the only place in this moment. They are so strong," he described and said he also needs to focus on his doctoral study this year. "I should present one part of my dissertation thesis in September so I am curious how I am going to manage this," ended Prindis.
Single canoeist Tereza Fiserova feels the level of the performances in her category in rising. "I do not have and particular targets this season but I definitely look forward to the European championships in Troja where we can expect a great atmosphere. I can say that this race will be a bit more important for me personally, despite the fact that the world championships will be more difficult. But I would appreciate the medal from Prague a bit more because it is on the home soil," said Fiserova. "I am very curious about the Czech selection races and the level of performances. It is all developing so fast and the girls are really on a different level than it used to be two three years ago. Every C1 girl feels the Olympic atmosphere already. One of the big talents can be Tereza Knéblová from Olomouc," said Fiserova who also prepares for the C2 mix races this year with Jakub Jane.
The ČEZ Canoe Slalom Czech Cup 2018 starts on the Trnavka in Želiv this weekend 5 - 6 May and the Czech selection peaks next weekend in Prague – Troja (12 – 13 May). On 13 May, there are also the Czech championships and the medals will be distributed to the new Czech champions on 13 May.
You can follow the information on the national site www.kanoe.cz (Czech only) or www.slalomtroja.cz.
Facebook Český vodní slalom a sjezd or instagram Czech Canoe.
Czech Cup web sites:
www.kanoe.cz/cez
YouTube Live
Online results
Želiv - http://kanoe.cz/cez/trnavka
Troja - http://kanoe.cz/cez/troja