The week full of canoe slalom events in Prague starts on Monday
The ECA European Canoe Slalom Championships in Prague start in a week (1-3 June) but the first events of the accompanying program are scheduled already on Monday 28 May. There will be the traditional Paddleride through the historical centre of Prague, Riverside Cross, opening ceremony in Hybernia Theatre or the welcome banquet in the residence of the City Mayor of Prague. The championships will see 207 boats from 27 countries.
The men´s kayak will be as usual the strongest event with 65 kayakers in the entries. Also 44 women kayakers are registered so the K1 women is the second largest event. The C2 men should not be missing in Prague as there are 17 crews already submitted. Attractive fights will also come in the teams categories.
Among women kayakers, Elena Kaliská who is the Slovak selection winner this year, will also star in Prague. She will compete in her 46th year of age and the interesting fact is that Kaliská became the European champions already 20 years ago – also in the Czech Republic, Roudnice nad Labem. It is very symbolic and she also is still in a good shape.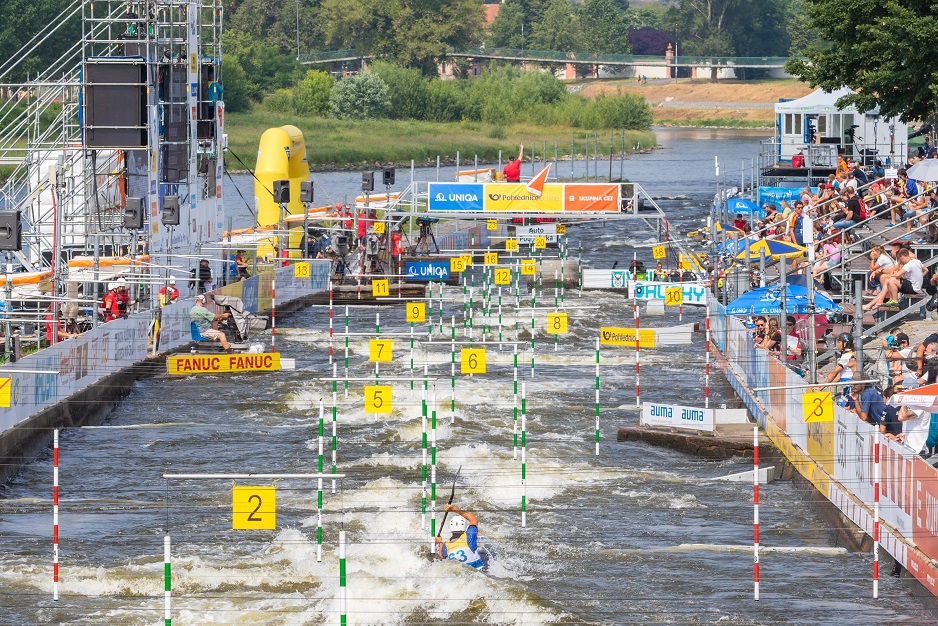 From the Czech paddlers, kayaker Jiří Prskavec will try to defend his bronze from Tacen 2017, as well as the C2 men crew Jonáš Kašpar with Marek Šindler. Silver or more – that is the target of the C1 women second placer from Tacen Tereza Fišerová.

Events during the week of the European Canoe Slalom Championships in Prague – Troja:

• MON 28. 5. 2018 – Paddleride (ambassador Vít Přindiš), start 16:00 from the Boathouse
• TUE 29. 5. 2018 – ČEZ Prague Riverside Cross (ambassador Vavřinec Hradilek), start 15:00 Kayak Beach Bar, Náplavka
• WED 30. 5. 2018 – Opening ceremony in Hybernia Theatre from 19:30
• THU 31. 5. 2018 – Official banquet and welcome by the Mayor of the City of Prague, 20:00
• THU 31. 5. 2018 – Official Press conference before the start of the championships, Hotel Jalta, 10:00
Official video invitation for the European Canoe Slalom Championships in Prague from the world kayak champion Ondřej Tunka via youtube: https://www.youtube.com/watch?v=lTxTJfmnGjk&feature=youtu.be
European Canoe Slalom Championships 2018
When: 1 – 3 June 2018
Web: www.slalomtroja.cz
Tickets: via TicketPro - https://www.ticketpro.cz/sport/vodni-sporty/2294179-eca-european-canoe-slalom-championships.html
Unofficial program: http://www.slalomtroja.cz/cz/informace-k-zavodu/program-zavodu
Media accreditation: http://www.slalomtroja.cz/cz/press/akreditace
Entries: http://www.slalomtroja.cz/en/teams/information-for-teams